Software Eases 3D Printing of Avatars
In 2006, when Mike Buckbee started offering the service of 3D printing Second Life avatars, it created a sensation. After all, there were already some two million residents of the virtual world, many of whom spent as much time "in-world" as in the real world. Why wouldn't they want a tangible version of their digital persona?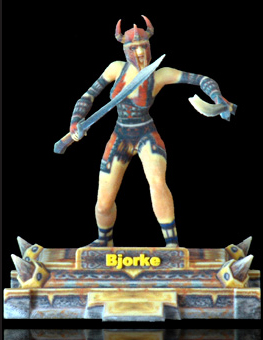 World of Warcraft FigurePrint

Reached on his cell phone by RapidToday, Buckbee says he is still plugging at it, but he isn't thriving. He still works full time as a project manager for a development company, and runs Virginia Beach, Va.-based Fabjectory on the side. (As of post time, the site had been down for a couple weeks). Partnering with rapid prototyping service bureaus like Anvil Prototype & Design in Charlotte, NC, Buckbee says he still does 5-10 a month, but that "it's time consuming" to fix the breaks and thin features like hair and ear rings that look good on a computer screen but are impossible to print. "Avatars are created for visual effect – there is no thought given to printing them," he says.
Maybe so, but a lot of thought is being given to making it easier to transform an aesthetically pleasing avatar into a digitally-sound fabber-ready .stl file. Given the huge numbers of online players (13 million uniquely-named avatars in Second Life alone), the potential market is huge. In March, Massachusetts-based Z Corp. (in partnership with Finnish software developer DeskArtes) released the best effort to date. Its ZEdit Pro software automatically detects problem areas, and helps to close gaps, repair meshes, and add depth. The software also makes it easy to add graphical elements, like color, texture, and labels. It also splits too-large models into multiple pieces and hollows out objects, saving on pricey build media. Besides avatar printing, the software is meant to ease the printing of medical scans and architectural renderings.
The idea is to democratize 3D printing, to give MCAD capability to computer users with no more than generic MS Windows skills. "We want to move to being like a 2D paper printer – no training class involved," says Roger Kelesoglu, Z Corp.'s director of customer development. Of course, democratization only goes so far. ZEdit Pro costs US$2,500 and only works with a Z Corp. printer, which run US$20,000 and up.

It will be interesting to see how ZEdit and other inevitable software offerings affect companies like Redmond, Wash.-based FigurePrints, which created a buzz at its startup in December, 2007. FigurePrints fabs 3D models of characters from World of Warcraft, which now has over 10 million subscribers. FigurePrints has been
Z Corp. Spectrum Z510 3D Color Printer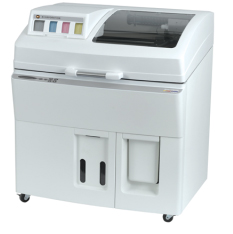 dogged by relatively high prices (US$100 for a 100mm tall figure), long lead times (30-60 days) and a limited production capacity (customers have to enter a monthly raffle to win the right to place an order).
If FigurePrints can adjust to the rapidly shifting landscape, there should be plenty of business to go around. Electronic Arts has dropped strong hints that it will offer 3D printed figures from its oft-delayed blockbuster game Spore, which is now due September 7, 2008.
As for Z Corp., it's already working on the algorithms for software to address the next most pressing issue: "Solving the problem where scale becomes a factor," says Kelesoglu. As an example, he cites the rapid prototyping of a miniature architectural model where a support column becomes so thin that it becomes overly delicate and jeopardizes the model's integrity. The solution may be to beef up some items, or, in the case of a doorknob, to eliminate it entirely, replacing it with a texture map image. "We are specifying it now. It's still early yet," Kelesoglu says.
Want to comment on this article? Visit our 3D Printing Forum.
Want to read more? Visit our 3D Printing Archive.