New Online Marketplace for RP & RM Debuts
A new online marketplace for making custom manufactured parts launched in July. UK-based Fabbers Market - still in beta - allows designers and engineers to source unique parts from around the world. The marketplace is notable because it places a special emphasis on 3D printed parts, although other processes - metal forming, machining, and finishing - are available.
"The idea for the business came about through an interest in the technology of 3D printing," says Fabbers Market Co-Founder Grant Brayshaw by email.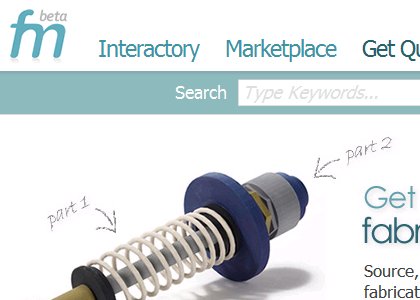 A screenshot of the Fabbers Market home page

"However, it has grown far beyond just 3D printing into a website and set of tools aimed at connecting designers and engineers with the manufacturers whose services they need."

It's too early to tell if Fabbers Market will succeed, but the odds are against it. Online markets rely on a critical mass of users to attract other users and Fabbers Market doesn't appear to have the breakthrough business model to quickly build community. It is competing against established competitors like SourceAuthority, First Index, & MFG.com, that have similar, or superior, capabilities.

Even incremental improvements in the online marketplace business model might not be sufficient to propel Fabbers Market to success. MFG.com Founder and CEO Mitch Free calls this the "eBay effect."

"I think I could make improvements in the eBay technology, but why bother? You would need a boatload of money and a lot of time," Free tells RapidToday. "Once the herd forms, it is hard to move."

By the last week of August, Fabbers Market had enrolled 111 manufacturers and 13 buyers. A week prior, Fabbers Market showed on their site a $100 per month cost for suppliers. Now, that cost information has been removed, indicating a possible strategy of forgoing early revenue in favor of building a larger user base.

MFG.com charges suppliers about $6,000 for a one-year non-refundable contract. Ironically, the global recession was a boon for the Atlanta-based multi-national conglomerate, as starving manufacturers rushed to enroll to keep the lights on. "The first four months of this year were really, really tough," says Free. "In January to March, lots of suppliers signed up. We had to work to keep RFQ volume up. In the May to July time frame, we've seen buyers come back."

Generally, buyers like the online marketplace model because it is free for them and efficient. Suppliers, on the other hand, are mixed. Some accept the relatively low prices and poor quote-to-win ratio. Others demand their money back and flame message boards.

CEO Free defends the model. "We facilitate the market - we put the right people together at the right moment in time," he says. "They and their peers are the ones submitting the quotes and establishing marketing pricing for their services. The MFG.com marketplace is merely a reflection of what is happening offline - they just have never been able to see it before."

Perhaps, but it's not so easy offline to compare a quote from your local Michigan shop against one in Shanghai, where the machinist is paid a few dollars a day.

The ease of sourcing from lower-wage offshore markets is part of what drives the success of MFG.com, and part of what makes the brokerage of rapid prototyping less attractive. "One of the reasons we haven't focused there is it's very commoditized. They're not competing on labor [because the technology is so automated]," Free says. "We think the prototyping market is pretty darn efficient." Free estimates prototyping is 3-5% of the MFG.com market in terms of dollars.

On October 3, MFG.com will release a new technology platform that it has been working on for two years. "It's going to incorporate all the stuff I wish I knew from the beginning," says Free, who founded MFG.com in 2000. Most apparent will be a switch from a RFQ-based transaction to a part-based transaction. "RFQ-based is an event - part-based goes on and on and has a life," he says. Under this new emphasis, it's easy to see how MFG.com's interest in early-lifecycle prototypes might increase.

Free says the new technology platform will also include "on-demand PDM [product data management]," improved "BOM [bill of materials] management," and a "nice API [application programming interface] for 3rd party apps."

And all this will be available in seven languages. "Manufacturing doesn't happen in one country or one region," says Free, who is targeting India, Brazil, and Japan next. MFG.com already has offices in China, Switzerland, France, & Germany.

Also expect MFG.com to put more emphasis on its ability to connect buyers and sellers of standard parts. The company's "attributed RFQ" uses a template that walks a buyer through a part's specifications, then sends the RFQ to qualified distributors and manufacturers.

MFG.com launched the standard parts marketplace two years ago, but has had trouble getting traction. "It's 18 percent of our business, and I think it should be half," says Free. Part of the problem might be in moving some of the herd from established players like Alibaba.com and Made-in-China.com.

Free dismisses the threat of online companies - like ThomasNet and GlobalSpec - that offer advertising programs for inclusion in their directories. "They are not transactional in nature," says Free. "GlobalSpec is pretty lame, pretty web 1.0."

Of course, all of these online properties require that buyers know what they want. In rapid prototyping and rapid manufacturing sourcing, that often isn't the case. In these situations, it's often best to rely on large multi-offering service providers, or traditional consultants and brokers, who can offer design and technology recommendations.

Want to comment on this article? Visit our RapidToday forum.

Want to read more? Visit our RapidToday archive.