Direct Manufacture of Medical Implants Set to Grow
Rapid prototyping in the fields of prosthetics and implantation has been going on for years – sort of. Although 3D printed body parts – derived from computed tomography (CT) and magnetic resonance imaging (MRI) scans – have been built for while now, they were typically used either as medical models for surgery preparation, patient-specific surgical guides, or as a pattern for an implantable titanium casting. (Since 2002, Interpore Cross International has used 30-some Solidscape ModelMaker systems to make casting patterns for spinal implants.) The actual implantation of rapid prototyped parts was rare.
That is beginning to change. After many years of trying, engineers and medical experts are now finally using additive fabrication technologies for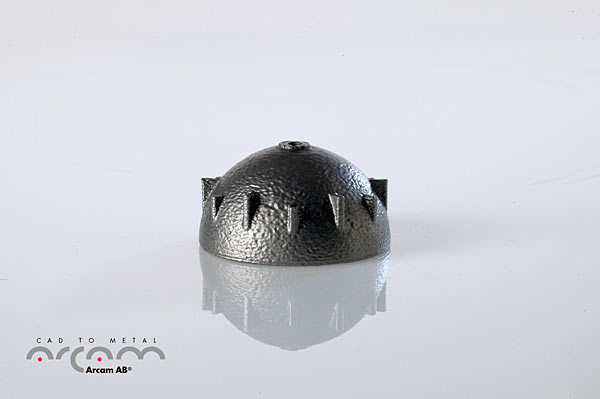 Hip Acetabular Cup made with Electron Beam Melting
Photo courtesy Arcam

the direct manufacture of hard biological implants (rapid prototyped soft tissue implants are probably still decades away). Leading the way is Europe.

In one of the first cases of direct implantation, Germany's MCP – HEK used its selective laser melting (SLM) technology to custom print a titanium alloy acetabular cup for an Australian woman's hip two years ago.

After receiving European CE certification, in 2007 Ala Ortho of Italy used Arcam's EBM S12 electron beam melting machine to manufacture more than 1,000 acetabular cups. The so-called Fixa Ti-Por cup is made of titanium alloy Ti6AL4V, which offers a good combination of strength and biocompatibility.

"Europe is much easier from a regulatory standpoint – there's less data required," says Andy Christensen, president of Medical Modeling in Colorado. Medical Modeling is at the forefront of the medical mass customization movement in North America.

The U.S. market has been slow to adopt layered manufactured implants not due to government objections, says Christensen, but due to caution by existing orthopedic implant suppliers, which dominate the market. These multi-billion-dollar firms – Biomet, DePuy, Smith & Nephew, Stryker, Synthes, Wright, & Zimmer among them – already have systems and processes invested in conventional manufacturing techniques, and a healthy skepticism about the new technologies.

"Standards are written around wrought material or cast material," explains Christensen, and details on RP lot traceability of materials and quality protocols still need to be hammered out. "The biggest challenge is it's a major shift in manufacturing techniques. Getting a new process in line not only has to make economic sense, but also has to meet stringent quality requirements. There is no hold-up from a technology standpoint."

The justification for the new technologies is clear, says Christensen. He sees three potential advantages, with the most important listed first:

· The capability to create impossible to machine or cast shapes and densities, like porous geometries for weight reduction or tissue or bone ingrowth (osteointegration)

· No tooling required, and the flexibility in manufacturing that provides

· Material properties are better than investment cast parts – the microstructure of the metal is finer, offering better tensile and flexural strength

In late 2006, Medical Modeling acquired an Arcam EBM S400 Metal Rapid Manufacturing and Prototyping System. This system has a build envelope of 200 x 200 x 180mm, with a layer thickness range of .05 to .2mm. Arcam's patented EBM process uses an efficient electron beam gun to melt metal powder in a vacuum chamber, eliminating oxidation and ensuring the necessary high purity of implant construction.

Christensen says his company has been working on implantable printed parts for orthopedic applications like the hip, head, and neck since the Arcam machine was purchased. "We're still holding out hope that it may happen in 2008. We're working hard at it – there's a lot of value in it potentially," he says.

Additional Resources:

Simpleware – Provides software solutions for the conversion of 3D images (MRI, CT & MicroCT) into meshes for implant design and manufacturing, among other uses.

3di – German company specializes in the development of individually-designed bone implants using Bioverit and other materials.

Anatomics – Based out of Australia, U.S., and Finland, this company supplies BioModels or custom implants based on CT or MRI DICOM scan data.

Cavendish Imaging – UK company provides craniofacial implants or anatomical models using rapid prototyping technologies.

Advanced Ceramics Research – Arizona firm originated the PlastiBone technology. Uses a 3D extrusion machine to print biocompatible polymer bone grafts made from polybutylene terephthatlate (PBT) and a modified Stratasys fused deposition modeling (FDM) machine to coat the implant with a thin layer of calcium phosphate and other growth factors to allow for tissue ingrowth. Has been successfully tested on animals.

Fraunhofer Institute for Manufacturing Engineering and Applied Materials Research – German institute developed a simulation program that calculates the internal structure and density distribution of bones for the purpose of using selective laser sintering (SLS) to produce a metallic copy.