Electroplating Transforms Rapid Prototyping Models
When Sean Wise incorporated RePliForm in 2000, the Baltimore company concentrated on electroformed tooling for the manufacture of out-of-production parts. Original parts were used as patterns to produce nickel-faced cavities and cores capable of running thousands of parts.
"One day one customer said they weren't interested in the tooling - 'Can you just coat our parts'?" remembers Wise. The customer - Pitney Bowes - wanted to test alternative part designs for a new mailing machine. "'We're probably not the only company that can use this,'" Wise recalls a Pitney Bowes engineer saying at the time. "Sure enough, they were right."
That was 2002. Today, RePliForm's RePliKote "armor coating" process for rapid prototypes is the majority of the company's business. The copper-nickel composite coating is desired by customers for one of three improvements:
Strength
Sealing
Appearance
The electroplating of sterelithography (SLA) and other plastic RP parts has proved so popular, RePliForm now has new competition. Starting this week in May, National RPSupport (NRPS) Inc. will begin offering a similar plating process that it is licensing from AT 3D-SQUARED, a Swiss/UK company that has offered the technology in Europe since 2007 through its sister company 3DDC.
"The interest we've received has almost been overwhelming," NRPS President Dennis Fogle tells RapidToday. The Iowa company historically has sold, maintained, and provided consulting services for stereolithography equipment, and has set up a separate website to market and sell the Metalise it...America service.
"The process is essentially the same [as the RePliKote process]," says Fogle. Parts are typically submerged in a copper solution for 12 hours, a nickel solution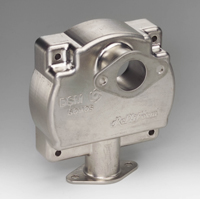 Nickel-Plated Stereolithography Model
Photo courtesy DSM Somos

for six hours, then post-processed and buffed if a high-gloss finish is required. Turnaround is two to three days for a typical 100 micron thickness coat.

The Metalise it process was developed for rapid prototyping models, but can be used on most vacuum cast and injection molded plastic parts as well. Thin-walled parts aren't conducive to plating, inVision parts must be dewaxed, and a special pre-treatment (for removing support material) is required for parts created using Objet's polyjet process. Plating of aluminum materials is not currently possible.

Proponents of electroplating say the process provides the benefits of metal rapid manufacturing without the cost. "SLA costs only one-tenth as much as a DMLS [direct metal laser sintering] part," says Wise. Coating a plastic part typically adds a 30-40% premium to its cost.

Besides aerospace, medical, and automotive, auto racing is one industry that uses the technology frequently. Formula One teams use coated rapid prototype models for aerodynamic testing in wind tunnels. The plated models replicate traditional carbon fiber parts and provide a 10-fold increase in stiffness over naked SLA and SLS parts.

According to testing DSM Somos has done on parts made with its ProtoTool stereolithography resin, property improvements of 30% in flexural strength, 100% in flexural modulus, and 540% in impact resistance are achieved when the parts are coated. Somos partnered with RePliForm starting in 2003 to clad parts made from its materials, notably NanoTool and ProtoGen. Its so-called MC2 process is performed by RePliForm after the parts are built by one of Somos' service bureau partners: Laser Reproductions (Ohio), FineLine Prototyping (North Carolina), or R&M Engineering (Michigan).

Plating is also used in sealing and barrier applications. Photo-cured SLA resins are sensitive to heat and humidity. A thin plate allows for underwater use of SLA parts, minimizing problem swelling. A metal coat is also useful for blocking out-gassing, controlling electromagnetic (EMI) and radio frequency (RF) interference, heat deflection, and flame retardency. RePliForm coated parts for the International Space Station that had to be non-flammable.

The art and jewelry fields use electroplating too, for decorative purposes. California-based artist Bathsheba Grossman has used RePliForm to coat her artworks in copper and/or nickel.

A third company involved in RP model coating is Tennessee-based PAR3 Technology, which holds the rights to the RP Tempering technologies, which are generally brushed or sprayed on.