Manufacturers Accelerate 3D Printer Intros
Led by 3D Systems, the Fall of 2008 saw an unprecedented number of strong 3D printer introductions from the industry's leading hardware manufacturers. Not buggy breakthrough products, these rapid prototyping systems are mostly second, third, and fourth generation machines that offer crucial incremental improvements in reliability, build size, accuracy, and ease of use. Following are rollout highlights, as well as user feedback on some of the more notable introductions.
Some of the highlights of the Fall (and near future) hardware introductions:
3D SYSTEMS

iPro 9000 SLA - See below
iPro 9000 XL SLA - Designed for building extra-large single-piece parts up to 1,524mm long.
iPro 8000 SLA - High productivity, mid-range stereolithography system.
iPro 8000 MP SLA - Designed for manufacturing small precision medical parts, like orthodontics, implant drill guides, dental restorations, hearing aid shells, and ear molds.
ProJet SD 3000 - Designed for in-office model-making using proprietary Multi-Jet Modeling (MJM) technology.
ProJet CP & CPX 3000 RealWax - Build wax patterns for direct investment casting.
V-Flash FTI 230 - Long-delayed inexpensive desktop 3D printer is in "advanced marketplace evaluation stages."
sPro 140 & 230 SLS - High-speed sintering system that builds parts up to 762mm long. Due for delivery in first quarter 2009.
ProJet 5000 - Utilizes MJM technology to print plastic and wax parts. Due sometime in 2009.
OBJET GEOMETRIES

Alaris30 - See below
Eden260V - Combines office compatibility with ability to utilize Objet's full range of materials.
Z CORPORATION

ZPrinter 650 - See below
STRATASYS

FDM 900mc - Designed with better throughput, build envelope, and accuracy than its previous FDM systems, this machine is meant for direct digital manufacturing applications.
Smoothing Station - Improves the surface finish of ABS thermoplastic parts made via fused deposition modeling.
125ci - Still delayed due to reliability issues, the hope now for this potentially breakthrough $5,000USD 3D printer is for the first customer placements in January 2009.
Araldite Digitalis - Little information has been released, yet the Digitalis has people talking, due to its reportedly fast and accurate MicroLightSwitch MEMS technology. Due sometime in 2009.
~~~~~~~~~~~~~~~~~~~~~~~~~~~~~~~~~~~~~~~~~~~~~~~~~~~~~~~
3D Systems iPro 9000 SLA Precision Center user feedback
When South Carolina-based 3D Systems introduced its iPro 9000 SLA Precision Center, Acu-Cast Technologies bought just one, in September 2008. The Tennessee company was a loyal user of 3D Systems stereolithography equipment, but its founder and CEO Gary Mitchell wasn't taking any chances.
He wasn't disappointed. "The laser power stability is perfect," he says. "We couldn't ask for anything more. The machine hasn't stopped yet, which is impressive for that size of machine." In no time, Acu-Cast had upgraded four of its old 3D Systems Viper Pro SLA Systems to the new 9000 specifications. (It has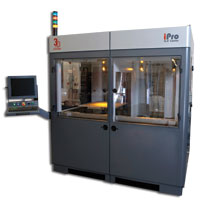 3D Systems iPro 9000 SLA

14 RP machines total).

Mitchell was cautious due to uneven performance of his Viper machines. "Before, laser power would drop during the build. The build would fail and we'd have to start all over," he recalls. An error like this most of the way through a 90-hour build of an all-terrain vehicle front end would be a disaster. "It was not only the money, but you'd end up losing the customer over it - it's called rapid prototyping for a reason." On one of the old machines, Acu-Cast had to replace the laser twice - at more than $40,000USD per episode. (Then, the machines had a 5,000-hour laser guarantee. The new 9000s have an 18,000-hour guarantee, he says.)

Not that the iPro 9000 is perfect. Mitchell says the control's user interface could be better optimized. Although build information is there, sometimes you have to hunt for it. "For example, for estimated time of build, you have to toggle from one page to another to find it," he says. He'd also like to see separate plotting systems on the "dual vat" version. "You could still share the laser and electronics, but if you are plotting and wiping at the same time, you increase speed."

Mitchell likes 3D Systems stereolithography equipment because of its accuracy. "Accuracy is what we depend on, especially with urethane casting," he says.

Mitchell is optimistic about the future. Acu-Cast has worked hard to diversify outside of automotive, doing just 10% of work in that sector now. And so far, the overall financial malaise has not hit the company hard; its 30-employee rapid prototyping division is running at 90% capacity. "This is one of our best years," he tells RapidToday in December 2008.

Z Corporation ZPrinter 650 user feedback

Footwear manufacturer Timberland has been a loyal user of Z Corporation 3D printers for a number of years so it was natural that the New Hampshire company would be a beta tester of the new ZPrinter 650. It received one in August 2008, three months before paying customers could buy one.

Using it regularly ever since, Toby Ringdahl, CAD manager for Timberland's global footwear product development, is quite pleased. He notes a number of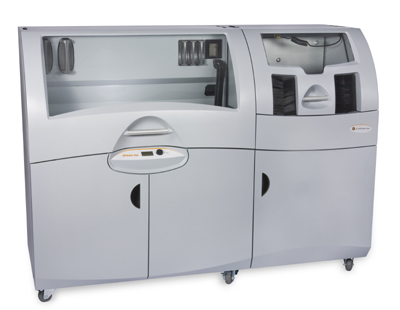 Z Corporation ZPrinter 650

improvements: improved color resolution due to a new dedicated black print head, larger build size, and more automated processes, like depowdering and auto bed filling.

But mostly he is happy just to get a more reliable machine. Timberland's former 3d Printer, the Z Corp Spectrum Z510, suffered from overheating print heads that would crash a build about 10% of the time. "It's two times so far [with the 650]," says Ringdahl. "That's a pretty big difference."

Ringdahl says the speed and low cost of materials is the reason Timberland likes the Z 3D printers. (Their first one was the ZPrinter 310, purchased in 2003.) Formerly, the shoe manufacturer would pay $1,000-1,200USD for a modelmaker to craft a model of a new boot. "It took a week and you couldn't change it very quickly," Ringdahl says. With a Z Corporation 3D printer, Ringdahl calculates it costs $50USD to build a typical mens size 9 outsole model. "It's far cheaper and far faster than SLS and SLA," he says.

Asked for a wish list of changes, Ringdahl mentions greater speed and range of materials. He singles out Objet 3D printers as a possible future purchase, due to their elastic FullCure Tango materials. "Flexibility of material will provide even closer to true-to-life models," Ringdahl says. "Now we get visual and design feedback - functional testing is the next step."

Objet Geometries Alaris30 user feedback

Tim McCaffery wanted a 3D printer that sat on his desk and plugged into a standard outlet, but didn't want to sacrifice part resolution. He looked at stereolithography systems for his start-up product development company, Lime Design, but they weren't able to properly apply treads on a tiny rubber sphere that served as a guidewheel in one of his designs. (The sphere is cast from a negative silicone mold that is created from the 3D-printed master pattern).

The Alaris30 from Objet Geometries could. He bought one in August 2008, and it has transformed his company. Formerly, Boston-based Lime Design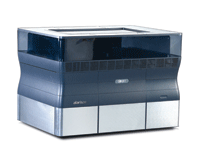 Objet Geometries Alaris30

would outsource rapid prototyping to a service bureau, batching 50 parts at a time. Now, Lime Design builds models when they have just five designs, getting much faster feedback. "We get many more turns. It allows us to spend less computer time now," McCaffery says. "We also like the resolution. We get full looks-like and full works-like."

The Alaris30 uses Israel-based Objet's patented PolyJet technology. It achieves good accuracy (0.1-0.2mm) and high resolution (600 x 600 dpi) by jetting photopolymer materials in 28 micron layers. It retails for less than $40,000USD.

McCaffery offers a couple suggestions for next-generation improvements. He'd like an increase in the machine's 300 x 200 x 150mm build tray size, and would appreciate being able to run more than one material. The Alaris uses only Objet's proprietary VeroWhite FullCure830 resin.

Lime Design has used the printer for 1,000 hours so far, and has already recovered its investment, says McCaffery. As the company continues to develop its patented handheld margarita glass rim salter and other so-far secret products, the Alaris is likely to see a lot more action.

Originally published: December 2008