Will Lower 3D Printer Prices Aid Growth?
This guest article is written by A1 Technologies CEO Martin Stevens. London-based A1 sells the low-cost RapMan 3D printer, along with other low-cost 3D scanning and haptic touch modeling products.
The views expressed in this article are solely those of Martin Stevens. Also, factual content has not been independently verified. No payment has been made to or from Martin Stevens or A1 Technologies for the appearance of this guest article.
**********
Since the earliest origins of 3D Printing there have been many discussions, articles and reports generated about the 'revolutionary potential' that this technology offers to the world at large, and more specifically, to the world of manufacturing. The technology emerged commercially more than 20 years ago when it was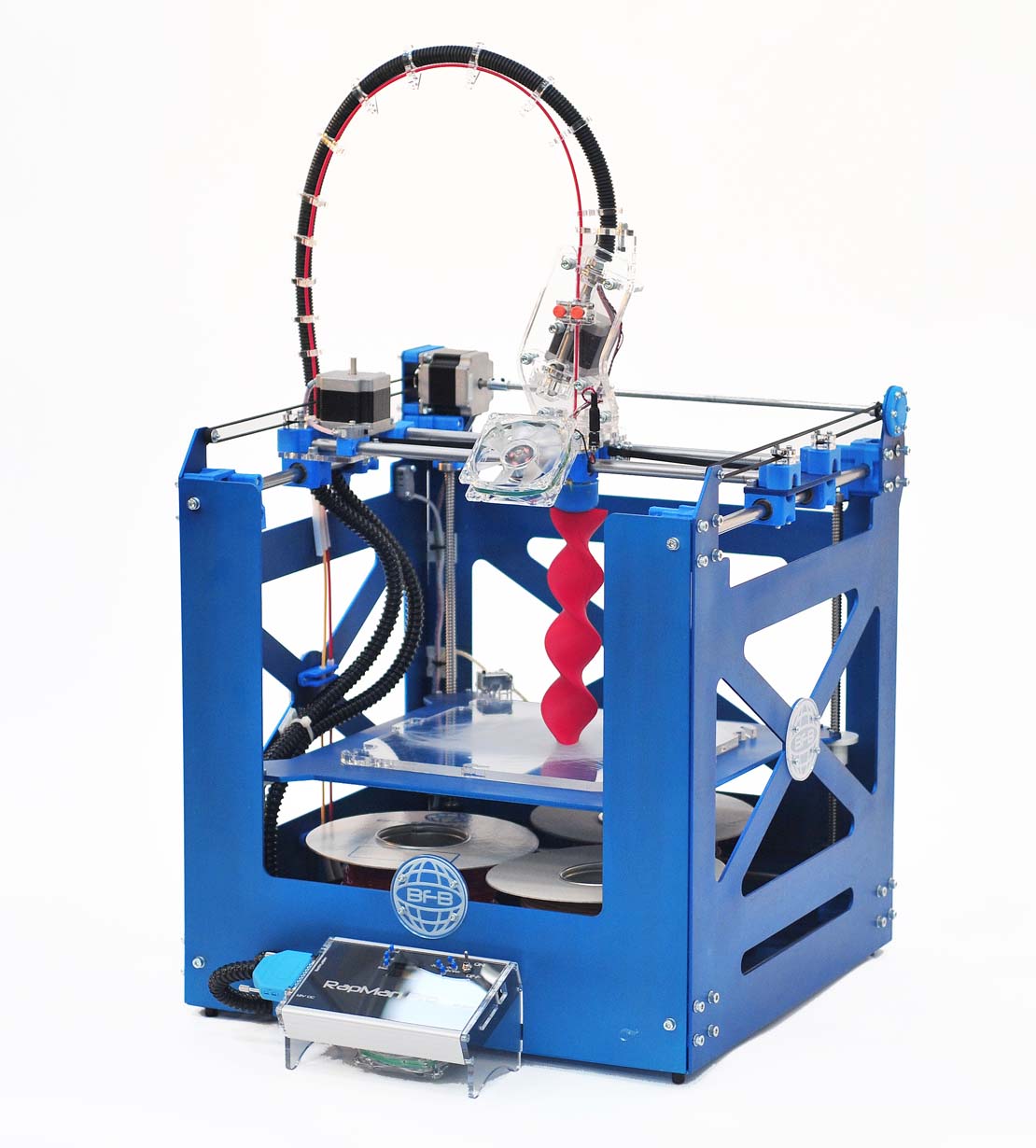 A1 Technologies' RapMan 3D Printer

labelled rapid prototyping (RP), a term that is still commonly recognized and used today.

However, in the last two decades, the technology, which encompasses numerous processes, has undergone significant developments that have seen the market itself grow extensively.

There can be no escaping the fact that the technology has been disruptive and offers many advantages to companies that employ it - reduced development time, reduced development costs, much faster time-to-market overall and greater design freedom are just some of the demonstrable benefits.

However, despite this, growth and widespread uptake has been relatively slow based on the perceptions that the technology itself has not fulfilled its potential and that it has remained financially prohibitive.

In reality, improvements to the technology have seen it exceed many of the original expectations, and the final frontier - that of cost - has been largely overcome, as competitive platforms can be bought for under £2000 ($3,250 USD).

All 3D Printing processes are based on the same principle - building parts additively, layer by layer, at the sub-millimetre scale. This is a very different approach to manufacturing parts and/or prototypes, when compared with the traditional methods of milling, moulding, casting or machining.

From the beginning, additive processes created a stir within product development circles, offering a revolutionary way to create prototypes that could be used for concept generation, reducing development times and offering a real competitive advantage.

Subsequent developments in the processes themselves and the materials that can be used have seen huge improvements in prototyping capability, allowing users to test the form, fit and function of their products as well as the emergence of a host of new applications such as rapid tooling, rapid casting, and the production of end use parts - additive manufacturing - eliminating costly tooling altogether.

As a result of the developments and growth of the additive manufacturing market, it has now fragmented somewhat, with two specific focus areas - processes that are dedicated to prototypes to radically improve product development and stimulate concept innovation, and processes dedicated to manufacturing and directly producing complex, repeatable components and products. This is reflected by some of the larger additive platform vendors that have restructured with separate divisions to focus on the different markets. Other vendors fit into one category or the other.

Today, the term 3D printing typically covers the prototyping market, but universally accepted terminology is still not in force.

Many of the original additive processes have become market leaders, namely stereolithography (SLA) from 3D Systems; laser sintering (LS) from EOS and 3D Systems; and fused deposition modeling (FDM) from Stratasys, with MTT, Arcam and Concept Laser contributing very competitive additive manufacturing systems more recently.

Needless to say, the competitive market landscape of 3D printing has changed dramatically over the last 20+ years - the success stories can be matched step for step by the demise of some of the other original vendors, together with a typical number of mergers and acquisitions.

Furthermore, the last two decades have also seen the emergence of other competitive 3D printing platform vendors, including Z Corporation, Objet Geometries, EnvisionTec, Sintermask, Solidscape, Solido and MCor Technologies.

The Holy Grail for the 3D Printing vendors is to develop a 'one solution fits all' process, but as yet this does not exist, and in reality is unlikely to. To date, all of these processes each have advantages and disadvantages in terms of their working parameters for specific 3D printing applications based on accuracy, surface finish, speed, etc. For any (potential) user, comparing and contrasting is the best way to select the right process for a given application.

However, there is one disadvantage that all of these processes share - they all require a fairly hefty capital investment. Mid-range 3D printers cost in the region of £30,000 ($48,775 USD) - a price that would make any company think twice. Entry level 3D printers have generally been around the £10,000­-15,000 ($16,260 - 24,390 USD) mark, still enough to warrant considerable budgetary debate.

Throughout 2008 and much of 2009 there was a great deal of talk about the emergence of a sub-£5000 ($8,130 USD) printer - with two primary contenders: one from Desktop Factory and also the V-Flash from 3D Systems.

Unfortunately, neither of these materialized on spec. Desktop Factory was unable to fulfill the considerable research and development it invested, and the company was bought by 3D Systems last year. 3D Systems did eventually launch its V-Flash platform, but it is currently retailing around £9000 ($14,630 USD).

But this is where it gets interesting. Early in 2009, A1 Technologies launched the RapMan 3D printer, a competitive, entry-level platform that is available in kit form for £750 ($1,220 USD) and a ready-built, sturdier platform for £2000 ($3,250 USD).

The reaction to the RapMan has been mixed - until people actually see it working, at which point they are impressed by its ability. Prior to seeing a RapMan, ironically, it is the price that seems to generate skepticism from a high proportion of people.

Another misperception is that the RapMan has been confused, both in the press and in general debate, with some of the (excellent) open source channels for developing accessible 3D printers, namely the RepRap and Fab@Home projects.

An easy-to-use, economical 3D printer is what this market has been waiting for, and we at A1 are pleased to offer it. History is likely to show that this is the key to unlocking the widespread commercial uptake of 3D printing.

Want to comment on this guest article? Visit our 3D Printer Forum.

Want to read more? Visit our 3D Printer Archive.