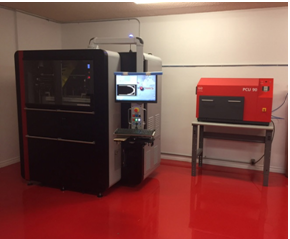 Prodways reseller Genistar is putting some finishing touches to its recently refurbished showroom that includes a ProMaker L5000 3D printer from Prodways, a 3D printer manufacturer which developed a new standard in 3d printing called MovingLight®, a VAT photopolymerization process that employs a moving DLP projector to cure images of layers at ultra-high resolution.
The 300-square-foot showroom will allow Genistar to print prototypes and parts in small batches, while serving as a key demonstration area for those looking to acquire a production grade SLA 3d printer.
"The showroom will give our existing and prospective clients  an opportunity to review a Prodways printer in action, as well as the amazing technology that is 'under the hood' and driving the unparalleled performance of these first-in-the-market printers", says President Gilles Desharnais.
The unit in display has a build envelope 16 x 13 x 16 in. (400 x 330 x 400 mm) and can print parts between 25 to 150 microns in layer thickness.  Common among all the printers in the ProMaker series is a stunning XY resolution of 42 microns (ideal for printing high definition geometries) and constant projected area or "tile size" of 2.5 x 1.5 in (70 x 40 mm) which exposes a slice or the entire image of the curable layer. A subset of the ProMaker series are the ProMaker D printers, which come equipped with granite platforms and do not require any support structures  while in the printing mode. These printers are ideal for printing dental molds for example where maintaining high resolution all around the part is paramount. Review Prodways' line of dental 3d printers
A New Printing Process for a New Era of Manufacturing
In 2013 Prodways became the first manufacturer to use a mobile DLP (Digital Light Processing) projector head to solidify layers onto the liquid resin, of which it also supplies directly. Some units use two heads for faster build cycles. Called MovingLight®, this proprietary photocuring process cures layers at a consistent resolution of 1920 x 1080 pixels along any point in the build area. The largest build envelope measures 33 x 26 x 22 in. (840 x 660 x 550 mm, a distinction that goes to the ProMaker L8000.
Genistar is based in Montreal, Quebec and is the sister company of Axis Prototypes, a 3d printing service supplier that specializes in rapid prototyping (RP), digital direct manufacturing (DDM) and advance manufacturing consulting.